Youth & Family Instuctors
Faculty Biographies
Forest Allread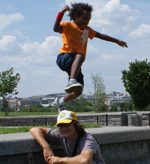 Forest Allread began teaching for the Corcoran Gallery of Art in summer of 2010. Forest teaches classes in digital art, animation, science illustration, web/print design, painting and sculpture. He works in the fields of fine art exhibition and scientific illustration, and teaches art through public mural projects in partnership with local youth outreach programs. Forest is focused on art making through a process of serious play that is active, engaging, and immersive. He gets much inspiration and ideas from his son's creative endeavors.
Jillian Bonahoom
Jillian Bonahoom received her BFA in Studio Art from the College for Creative Studies in Detroit, Michigan, and is currently working towards an MFA in Studio Art from American University. She has taught painting and drawing at various arts institutions, including Corcoran's Camp Creativity, Birmingham Bloomfield Art Center, Cranbrook's Summer Programs in Michigan, Davison Elementary in Detroit, and Arlington Arts Center. Her personal work explores aspects of theatre and narrative through realistic oil painting. She is interested in aspects of costuming, sets, and dramatic lighting of theatre, as well as expressions and body language in creating stories. Through her teaching, Jillian encourages a studio-centered atmosphere, where techniques and skills are explored and practiced, and students are encouraged to express their creativity and individual style.
Heather Bowling-Clark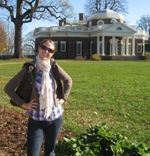 Heather Bowling-Clark has a Bachelor of Arts degree in Art History from Southern Methodist University in Dallas, Texas, and a Master of Arts degree in Art History from the University of Colorado at Boulder. She has worked as an archaeologist and registrar at the Archaeological Field School at the Villa of Maxentius in Rome, Italy for three field seasons. Additionally, she teaches classes and programs for museums and universities including the Corcoran College of Art + Design, Ithaca College, and the National Portrait Gallery. In 2007, Heather began teaching for the Corcoran's Camp Creativity, where she drew from her varied art historical experiences and training in object-based learning to create exciting and educational art lessons for young people.
Lisa Golightly Braden
Lisa Braden has studied at the Corcoran College of Art + Design and holds a Bachelor of Arts degree in Studio Art from the University of the District of Columbia. In 2006, Lisa began teaching art at the Jewish Community Center of Greater Washington (JCCGW), providing instruction for a variety of art classes and workshops. As the Fine Arts Specialist for the JCCGW Summer Art Camp, she designed curricula and taught mixed media art classes. In 2008, Lisa began teaching at the Corcoran's Camp Creativity where she employs playful and experimental methods, introduces art and design fundamentals, and encourages campers to pursue their own unique vision. In her own work, Lisa is primarily a painter. She is continually refreshed and inspired by the energy and enthusiasm of her students.
Natalie Cheung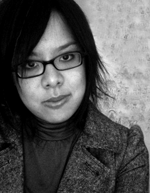 Natalie Cheung received her Bachelor of Fine Arts degree in Photography from the Corcoran College of Art + Design and in 2010 she will earn her Masters degree in Photography from Tyler School of Art in Philadelphia, Pennsylvania. In 2008, Natalie began teaching photography at the Corcoran to teens and children. She is currently teaching undergraduate photography courses at Temple University in Philadelphia, and has previously been an instructor for Capitol Hill Arts Workshop (CHAW) in Washington, D.C. Natalie's own artwork draws its momentum from the rich history of the photographic medium. She approaches the medium in an experimental fashion using camera-less photography. Cheung's work focuses on chance happenings, fractal patterns occurring in nature, and the push and pull between the micro and macro chasm.
Julie Christou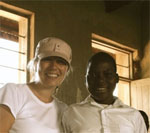 Julie Christou has been drawing and painting since she was very young, and has exhibited both photography and collage. She has a Bachelor of Science degree in Child Development from Michigan State University. In 2008, she began teaching young artists through the Corcoran's Glen Echo Park satellite campus. After studying children's book illustration at the School of the Art Institute of Chicago's Ox-bow Campus, she began working on her first children's book. She has traveled extensively, working with a therapeutic art program in Northern Uganda, and hopes her book will be an advocacy tool for children in other parts of the world. She has been teaching for over a decade, looking particularly at the links between cognitive development and creativity. Both in and out of the classroom, she believes "a wise teacher makes learning a joy!"
Janet David
Janet David graduated with a Bachelor of Fine Arts degree from Corcoran College of Art + Design. She has more than twenty years of teaching experience, including ten years with Corcoran Youth and Family Programs where she has contributed to the introduction and design of new classes in Camp Creativity. She has taught art in both museums and schools across the United States including the Smithsonian, the San Francisco Art Institute, and Duke Ellington School for the Arts. Her teaching philosophy is to empower students to trust in their own creative choices by establishing a nurturing and experiential classroom environment.
Kristin Guðbrandsdóttir
Kristín Guðbrandsdóttir is a bookartist, teacher, and furniture maker from Iceland. She graduated from University of Iceland in 2004 with a Bachelors degree in Education. She worked as an art teacher for four years before moving with her family to the USA in 2008, and is currently pursuing an MA in Art and the Book at the Corcoran College of Art + Design. Kristín's work is mostly three dimensional where she incorporates her skills as a craftsman with creative thought. She uses the camera as a tool for discoveries for her work. She believes the book is not solely an object where pages are turned but a medium for artistic expression, a sculptural object where experiences take place and perception is challenged.
Roberta Hoversten
Roberta Chillico Hoversten has been teaching at the Corcoran College of Art + Design since March 2006, and has taught for Alexandria City Public Schools as both a substitute teacher and an intersession art instructor. Originally from Rome, Italy, Roberta has degrees in fashion design and studio art, and is presently honing her skills as a muralist. She recently completed a mural in Myrtle Beach, South Carolina. As a teacher, she enjoys seeing the confidence her students gain in their drawing abilities after just a few lessons, and the contentment this gives them.
Chris Jamison
Chris Jamison holds a BFA in Fine Art and is currently attending the Corcoran College of Art + Design to receive his Masters of Arts in Teaching. Chris taught courses in typography and cartooning for the Corcoran's Camp Creativity in the summer of 2010. Chris taught an animé course for the ImaginAsia family programs at the Sackler Gallery of Art for four years. He has also taught Prayers for World Peace, and Dharma for Kids classes at the Vajrayogini Buddhist Center. In his own work, he enjoys creating characters and stories that embody certain values and human struggles. The characters come from explorations of history and culture. In his teaching, Chris encourages process over product in artistic creation, and believes it is important to accrue a large database of artistic references for inspiration.
Rula Jones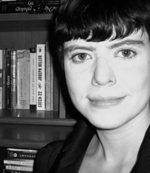 Rula Jones holds her Bachelor of Arts degree in Art from Marymount Manhattan College and has studied independently at the School of Visual Arts and the Art Students League of New York. In 2006, Rula began teaching children, teens, and even adults at the Corcoran and at the Corcoran's satellite location in Mclean, Virginia. She was previously an educator and artist-in-residence for the Brooklyn Children's Museum and has been a recipient of various awards including a grant from the Council on the Arts and Humanities for Staten Island and the Ora Lerman Charitable Trust. Rula emphasizes an equal approach of skill and concept in art education. Though primarily a humanist, she employs several teaching methods in the classroom from both constructivist and direct-instruction pedagogical theory.
Megan Maher
Megan Maher received her Master of Fine Arts degree from The American University with a focus in painting, and her Bachelor of Fine Arts degree from Indiana University. Megan has taught a variety of classes during her seven years with Camp Creativity. The rest of the year, she teaches art for Montgomery County Public Schools. Megan started her teaching career at the Maryland Institute College of Art and Design teaching both adults and children. In her own work, Megan is inspired by her students' spontaneity. Currently she is making mixed media prints. As an artist teacher, Megan encourages students to be creative and use critical thinking in their art while also developing formal skills.
Manuel Navarrete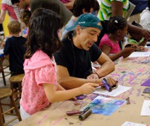 Manuel Navarrete was born in Peru, where he received his Bachelor of Fine Arts degree and graduate degree in Printmaking at the Pontific Catholic University of Lima. He immigrated to the United States in the early 90's and continued his studies in fine arts and digital media at the Corcoran College of Art + Design. Currently an adjunct faculty member of George Mason University, the Corcoran College of Art + Design, and the Catholic University of America, Manuel teaches courses on digital media applications for fine art printmaking and photography projects. His recent local exhibitions include collective portfolio shows at Gallery K, the Library of Congress, District Fine Arts gallery, the Corcoran Gallery of Art, Kathleen Ewing Gallery, and Civilian Arts Gallery.
Chakraphan Rangaratna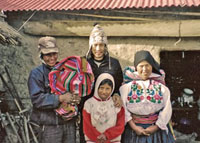 Chakraphan (Tang) Rangaratna received his Bachelor of Fine Arts degree from the Corcoran College of Art + Design in 2004. He has been working as a teacher assistant in the Corcoran's Printmaking department since 2004, and in addition, he continues to create artwork based on his travel around the world. During his two years at the Hand Print workshop International in Alexandria, Virginia, Tang worked with local and international artists to make original prints. His work has been exhibited at Transformer Gallery, a non-profit art space for emerging artists in Washington, D.C.
Michael Rawson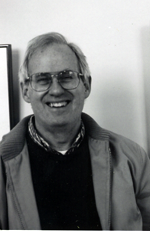 Michael Rawson has a Master of Arts degree in Early Childhood Education and Administration from George Washington University (GWU), as well as an undergraduate degree in Political Science from GWU. His career in early childhood education spans over 25 years and he has experience both as a childcare center director as well as a classroom teacher. As an adjunct faculty member, he has taught various classes for the Corcoran's Camp Creativity and led successful workshops for the museum. In 2006, he participated in the Corcoran exhibition Botanical Treasures of Lewis and Clark and later earned a Certificate in Botanical Art and Illustration from the Corcoran College of Art + Design and the U.S. Botanic Gardens. His work has been exhibited in area galleries and he is a member of the Washington Project for the Arts.
Miriam Rust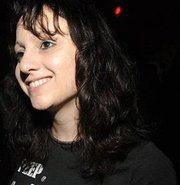 Miriam has a Bachelor of Arts in Creative Writing from Bennington College, and will complete her Master of Arts in Teaching at the Corcoran College of Art + Design in Fall 2011. She has more than 10 years experience in teaching art at Country Day School in McLean Virginia, were she oversees a yearly art show for over 300 pupils. Additionally, she has taught art at a variety of public and private institutions throughout the D.C. metro area. Her media of choice is oil paint and her primary subject matter is portraiture. Her art explores the distinction between the public and private persona. As an educator, Miriam believes that the creative process is supremely liberating, intuitive, and innate. Her primary goal is to teach craftsmanship and follow-through whilst inspiring comfort, confidence, and individuation in the artistic process.
Erik Swanson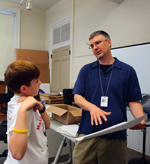 Erik Swanson received his Bachelor of Fine Arts degree in Painting from Tyler School of Art in Philadelphia, Pennsylvania in 1997. He has nearly 10 years of experience as an art director and over 15 years of experience as a freelance illustrator, working with clients such as the Teenage Mutant Ninja Turtles, G.I. Joe, Image Comics, and Sun Microsystems. In addition to freelance illustration, Erik teaches for Montgomery College and the Corcoran College of Art + Design. Due to his background and array of artistic skills, his classes range from figure drawing and painting to claymation and comics. In 2007, a comic book he worked on was nominated for a Harvey Award, and more recently, he taught a claymation class at the Smithsonian Freer and Sackler Galleries, the results of which were put on display at the museum.
Kelly Teeling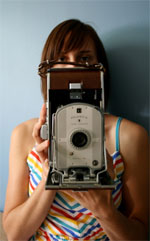 Kelly Teeling received her BFA in Fine Art Photography from the Corcoran College of Art + Design in 2010. Kelly recently taught an alternative process photography workshop in conjunction with FotoWeek DC at the Corcoran, and has been involved with the school's Pre-College program for the past four years as a teaching assistant and coordinator. In her own work, Kelly uses both photography and video to explore philosophical concepts, often questioning ideas of time, truth and existence.
Elizabeth Wyrsch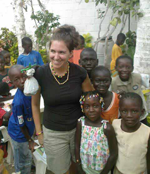 Elizabeth Wyrsch received her Bachelor of Arts degree in Environmental Studies from the College of William and Mary and recently graduated from the Corcoran College of Art + Design with a Master of Arts in Teaching. For the past six years she has dedicated her time teaching art to D.C. urban youth through summer camps, charter schools, and now as a full-time DCPS art instructor. As an arts educator, Elizabeth has received multiple grants from The Washington Post and D.C. Commission on the Arts and Humanities. In addition to her teaching, Elizabeth continues to practice her own art and is currently preparing for her second solo exhibition. In her own art and in her teaching, she strives to incorporate environmental principles stemming from her background and education.
Other Instructors
Biographies are coming soon for the following instructors: