Summer 2013 at the Corcoran
Summer 2013 at the Corcoran
This summer, the Corcoran presents a dynamic schedule of exhibitions and programs for D.C.-area residents and travelers to our nation's capital.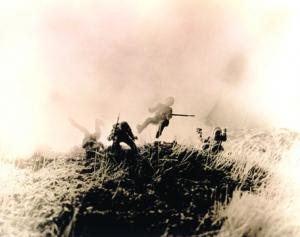 Mark A. Grimshaw, First Cut, Iraq, July 2004. Inkjet print, printed 2012. Courtesy of the photographer. © Mark Grimshaw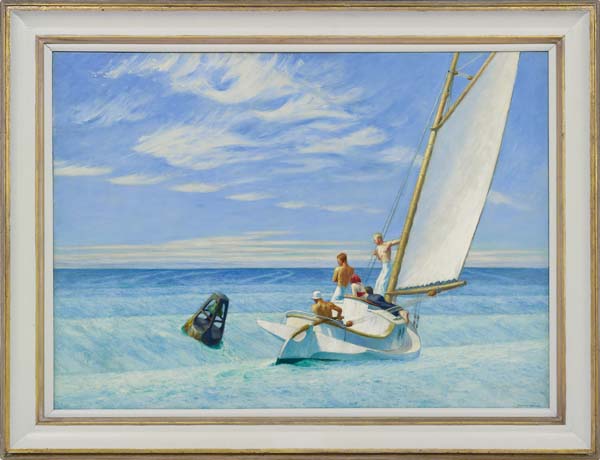 Edward Hopper. Ground Swell. 1939. Oil on canvas. 36 3/16 x 50 1/16 in. (91.9 x 127.2 cm). Museum Purchase, William A. Clark Fund, 1943. 43.6
In the Gallery, discover:
David Levinthal: War Games (May 11–September 1), featuring the artist's photography on the subject of war. The exhibition was organized by students of the Curatorial Seminar at the Corcoran College of Art + Design
WAR/PHOTOGRAPHY: Images of Armed Conflict and Its Aftermath (June 29-September 29), which brings together images by more than 200 photographers from 28 nations and covers conflicts from the past 165 years—from the Mexican-American War through present-day conflicts in Iraq and Afghanistan.
The NOW at the Corcoran exhibition Ellen Harvey: The Alien's Guide to the Ruins of Washington, D.C. (July 3-October 6)--a tour of America's capital city through alien eyes. The exhibition's centerpiece is a self-guided map of Washington's landmarks.
---
Visit the Gallery for FREE on Free Summer Saturdays (May 25–August 31) from Memorial Day weekend to Labor Day weekend and enjoy special family and community programs.
Join us Wednesday evenings for Corcoran Uncorked happy hour with tours, programs, and more.
The Corcoran College of Art + Design's continuing education courses offer a range of possibilities—including classes in photography, painting, interior design, and more, at all levels.
The Corcoran College of Art + Design's Pre-College programs are designed for rising high school juniors and seniors (ages 16–18) who want to prepare themselves for college admission and undergraduate success in the fields of photography, fine art, and design. Students may select from Portfolio Development day or residential programs and our unique residential photography programs: Focus on Fine Art Photography and Focus on Photojournalism.
Camp Creativity , the Corcoran's summer program for children ages 5–16, is just one of the options for kids and teens to stay cool.
The café, Todd Gray's Muse at the Corcoran , promises a menu of summer delights, including brunch the first and third Sunday of the month.
Visitor Information
The Corcoran's hours of operation are as follows: Thursday, Friday, Saturday, and Sunday from 10 a.m. to 5 p.m.; Wednesday from 10 a.m. to 9 p.m.; closed Monday and Tuesday. Admission to all exhibitions is FREE on Saturdays, thanks to the Corcoran's Free Summer Saturdays promotion. Admission Wednesday, Thursday, Friday, and Sunday is $10 for adults, $8 for seniors (62+) and students (with valid ID), children 12 and under, military (with valid ID) and Corcoran members enter for free. Not a member? Join today!