Free Summer Saturdays
May 25-August 31, 2013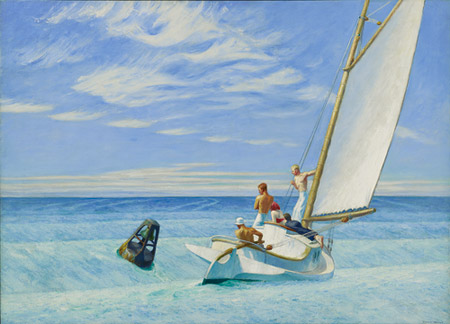 Edward Hopper. Ground Swell. 1939. Oil on canvas. 36 3/16 x 50 1/16 in. (91.9 x 127.2 cm). Museum Purchase, William A. Clark Fund, 1943. 43.6
Join the Corcoran on Saturdays this summer for Gallery tours, workshops, demonstrations, and performances! Enjoy our summer exhibitions and programming free of admission on Saturdays from Memorial Day weekend through Labor Day weekend.
Programs
July
Printmaking Workshop
Saturday, July 27; 10 a.m.-12 p.m. and 1 p.m.-3 p.m.
Free; no registration required
All ages welcome. Stop by and learn about two different types of printmaking! Design and print your own woodblock in the morning and silk screen in the afternoon.
August
Sketching in the Gallery
Saturday, August 3; 12 p.m.–3 p.m.
Free; Pre-registration required
Open to adolescents and adults. Join us for a workshop and learn techniques sketching from a painting and live model. All materials are provided.
NOW Performance: Mary Coble
Saturday, August 10; time
Free; no registration required
Through performance, video, and installation, Mary Coble explores the limits of her own body's physical abilities while identifying and challenging social limitations and regulations. Past performances include binding her breasts continually with duct tape, inscribing the names of queer hate-crime murder victims on her body with inkless tattoos, and using flag semaphore to convey the difficulties of human connection and communication. Coble will be performing an original commission at the Corcoran.

Kid Pan Alley: Camp Creativity Performance
Saturday, August 17; 11am
Attend the concert finale after a week-long songwriting workshop that combines creativity, music, and art. Campers as budding songwriters draw musical inspiration from the art in the galleries and render a grand performance not to be missed.

Community Pop-Up Gallery
This event has been cancelled. We apologize for the inconvenience.
Free; pre-registration required
Explore how we interpret our own history through unfamiliar objects of our past. During this one-day Community Pop-Up Gallery inspired by Ellen Harvey: The Alien's Guide to the Ruins of Washington, D.C., participants bring unusual antiques, family heirlooms, and collected objects from the past for a temporary display in our north Atrium. Participants and visitors discuss and examine the objects, share stories about what they were used for, and reflect on what the objects might tell us about society at the time.
Interested in participating?
Each participant must submit an application, which includes a brief description of the object or objects to be displayed, and up to five (5) high-resolution images. A link to the application is below.
Space is limited and participation is on a first-come, first-served basis. The application deadline is August 14, 2013 , and notification of acceptance into the Community Pop-Up Gallery will be sent by August 16, 2013.
Questions?
Please contact Erin Higgins, Director of Public Programs at ehiggins@corcoran.org .
Throughout the Summer
Sidewalk Chalk Drawing
Every Saturday; 10 a.m.-2 p.m.
Free; no registration required
Highlights from the Corcoran Collection will be illustrated in chalk by artists, Julia Benton and Whitney Waller. Chalk drawings will be located on the sidewalk outside the Corcoran's main entrance on Seventeenth Street.
Take It to the Bridge
Select Saturdays
Free; no registration required
The Corcoran Gallery of Art and College of Art + Design, in conjunction with the Washington Project for the Arts, presents a new series of work by local and regional artists (DC, MD, VA, WV, PA, DE). Take It to the Bridge includes temporary exhibitions, performances, installations, and interventions on the Performance Bridge inside the Corcoran's glass entryway. Many of the events take place on Free Summer Saturdays .
Take It to the Bridge is juried by performance artist Holly Bass; Lisa Gold, executive director of Washington Project for the Arts; and Sarah Newman, curator of Contemporary Art, Corcoran Gallery of Art. Created in February 2012 by Bass and architectural designer Kashuo Bennett, the Performance Bridge transforms the Corcoran's glass entryway into an exhibition space. The Bridge asks us to look up and out, to see in entirely new ways. As a performance space it embodies explicit conceptual themes such as exposure, transparency, entrapment, anthropological display, and the diorama. It is capable of supporting sculpture or installation, live performers, as well as more ethereal works that use sound and light as material.