Fall Fête: Americans in Paris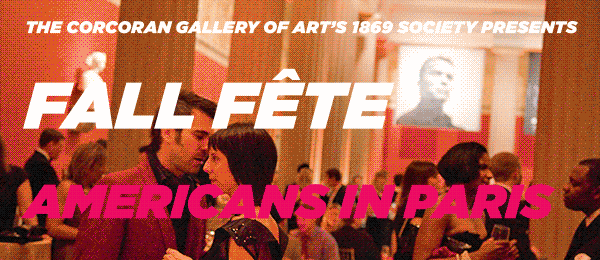 Fall Fête is the 1869 Society's annual black tie event celebrating a debut exhibition at the Corcoran. Returning for good in 2013 after a three year hiatus, Fall Fête 2013 on September 27th raised nearly $40,000 for ArtReach, the Corcoran's educational outreach program which serves over 200 inner-city youth each year.
Planning for the sixth annual Fall Fête is already underway. Mark your calendars for Friday, September 26, 2014!
Fall Fête celebrated the reinstallation of the American galleries at the Corcoran, and the influence of Parisian life on American painters. Fall Fête: Americans in Paris brought together guests for an evening of glitz, glamour, and of course, lots of art. View photos from the event here:
2013 Fall Fête Host Committee:
Jenny Chung, Co-Chair
Huong Tran, Co-Chair
Alex Bruce
Bay Fang
Stephanie Fischer
Lauren Flowers
Mavis Gragg
Kristen Harvey
J.R. Heacock
Keri Ann Mesler
Shelley O'Brien
Lauren Pillsbury
Pragati Singh
Sarajane Sparks
Agatha Tomasik

1869 Society Steering Committee:
Carl Bedell, Chair
Phil Mone, Vice Chair
Jenny Chung
Taryn Fielder
Katie Funk
Kimberly Gube
Jennifer Key
Joseph Lai
Laura Lambert
Kara Merrigan
Jesse Phillips
Andrew Reese
RaShonda Rosier
Andrew Stein
Lindley Thornburg
Huong Tran
Lindsey Vaala