Recent Photography Acquisitions
May 14, 2011
to
August 28, 2011
The Corcoran Gallery of Art was among the first museums in the United States to acquire photographs, beginning with Eadweard Muybridge's Animal Locomotion and the Wheeler Survey album in the late-19th century. The museum began collecting photographs in earnest in the 1970s, and has since acquired works in a variety of media made between the late-19th century and the present day. The collection now includes more than 6,500 photographic, video, and digital works, which together reflect diverse ideas and styles important to the evolution of various media.
Two galleries in the museum are dedicated to showcasing works from the Photography and Media Arts collection in a series of rotating exhibitions.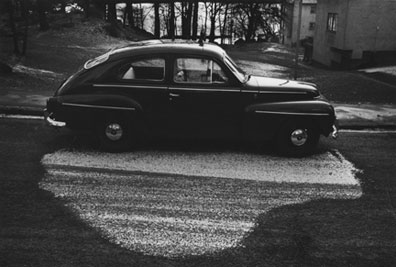 Kenneth Josephson, Stockholm, 1967, gelatin silver print,
8 x 12 inches, Corcoran Gallery of Art, Washington D.C., Gift of Sharon Keim, 2007.009.002, © Kenneth Josephson, Courtesy Stephen Daiter Gallery
This exhibition showcases significant and recent donations to the Photography and Media Arts collection made by local collectors and longtime supporters of the Corcoran Gallery of Art and College of Art + Design.
Featured in one gallery is a selection of major works donated by an anonymous collector in 2010. The exhibition features photojournalists and photographers who locate the spirit of humanity in portraits and in daily life. The photographs on view constitute works made by some of the foremost practitioners of the medium, including Henri Cartier-Bresson, Bruce Davidson, Leonard Freed, Sebastião Salgado, and Alex Webb.
The exhibition also presents photographs donated by Sharon Keim, a former photography dealer who founded the Washington Center for Photography. Between 2006 and 2008, Keim donated an important group of images that explores various traditions in photography, including portraiture, landscape, and experimental work. Among the artists represented in this gift are William Abranowicz, Wynn Bullock, Barbara Crane, Abe Frajndlich, Peter Goin, Kenneth Josephson, Ralph Eugene Meatyard, John Ward, Brett Weston, and Minor White. An avid book collector, Keim also donated limited edition artists' books to the collection, and her personal trove of photography books to the Corcoran Library.  Books by Ken Ashton, William Eggleston, and Robert Frank are on display.