American Falls: Phil Solomon
April 10, 2010
to
July 18, 2010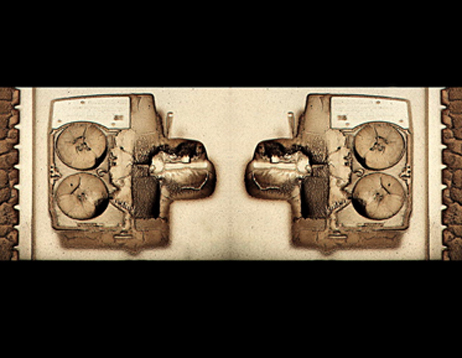 A Commission for the Corcoran Gallery of Art, Washington, D.C.
American Falls is a new multimedia installation by acclaimed experimental filmmaker Phil Solomon, commissioned by the Corcoran for the museum's grand Rotunda.
Inspired by Frederic Edwin Church's 1857 masterpiece Niagara, one of the best-known paintings in the Corcoran's collection, and by Washington's monumental war memorials, American Falls explores the aspirations and struggles that lie at the heart of the American Dream. Visitors to the installation will feel surrounded by water, as six digital projections depict Niagara Falls cascading down the walls. Gradually, scenes ranging from everyday life to major figures and events that shaped American history dissolve in and out of the waters, transitioning across the curved arc of the Rotunda. Solomon's resources for these images include Hollywood cinema, found footage, and documentary accounts of historical events.
Solomon's innovative use of altered film emulsion transforms Niagara Falls into a metaphoric landscape, encouraging the audience to consider how a place can reflect the events that occur on its shores. Envisioning the currents of history as a collective dream, American Falls considers many of the questions inherent in our national identity, at a crucial moment in this country's passage.
This exhibition is organized by Paul Roth, former senior curator of photography and media arts, Corcoran Gallery of Art.
Artist's Biography
While relatively unknown among contemporary art audiences, Phil Solomon has achieved a high level of recognition in the world of experimental and avant-garde cinema. Solomon has been included in New York's prestigious Whitney Biennial of American Art twice. His films have been screened at the Museum of Modern Art, New York; the New York Film Festival; the Sundance Film Festival; and at many other prestigious national and international festivals and venues. He has won a John Simon Guggenheim Memorial Fellowship (1993) and The Thatcher Hoffman Smith Award (2007), as well as grants from the National Endowment for the Arts and the Creative Capital Foundation. His films are included in the collections of the Museum of Modern Art and the Art Institute of Chicago, among many other institutions. A longtime colleague of (and collaborator with) legendary filmmaker Stan Brakhage, Solomon is a Professor and Associate Director of Film Studies at the University of Colorado-Boulder.
American Falls: Phil Solomon is supported by The Donner Foundation and Animation and Images of New York.