Interview with Corcoran Chief Curator Philip Brookman
Richard Diebenkorn: The Ocean Park Series
June 30–September 23, 2012
Interview with Corcoran chief curator and head of research Philip Brookman
Philip Brookman, the Corcoran's chief curator and head of research, was a 20-year-old student at University, Santa Cruz, in 1973 when he wrote Richard Diebenkorn requesting permission to mount a retrospective of the artist's drawings. Over the course of organizing that exhibition, which appeared at UCSC's Mary Porter Sesnon Art Gallery in 1974, Mr. Brookman gained valuable perspective on Diebenkorn's working methods and insight into the world of art. Here, he discusses the experience.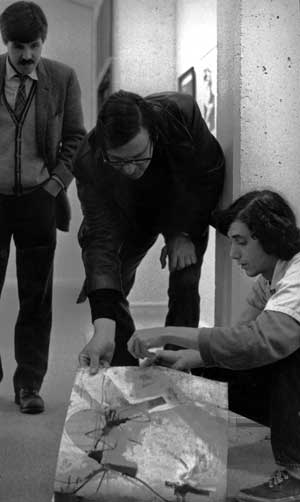 Preparing for the 1974 retrospective of Diebenkorn
drawings. Left to right: Donald Weygandt, Richard
Diebenkorn, Philip Brookman

This was the first exhibition you ever organized. How did you decide on Diebenkorn?
At UC Santa Cruz, there was no art history major. I designed my own program. I was looking for a project that would take me out of the classroom and into direct contact with a living artist. I picked Diebenkorn, whose work I had seen at SFMOMA. I just loved the complexity of his art. Two of my teachers, Douglas McClellan and Don Weygandt, knew him and gave me his address.
What was your first meeting like?
Diebenkorn was very generous with his time, maybe because I was just a kid then and he was used to playing the role of professor, although he had stopped teaching by then. He led a very middle-class life,, with a wife and a dog and two grown kids. He drove to work at his studio every day. I was impressed with that ethic. I interviewed him about his work, and he let me photograph him drawing. He drew every day. He drew to clear his mind. We looked through many boxes of old drawings, and he helped me find drawings that had been sold or given away. This is how I learned what a curator does.
It was sink or swim.
Right, and he was the lifeguard.
And the studio was in Ocean Park?
The Ocean Park neighborhood was just south of downtown Santa Monica. It had been the site of the famous Pacific Ocean Park Amusement Pier, which closed in 1967 and was destroyed by fire in 1974. This was a very funky area known as Dogtown to the surfers, not suburban like it is now. Dick was working in beautiful studio on the second floor of an industrial building he shared with the painter Sam Francis. One long wall was entirely made of windows, which gave him the light to work.
Did you also get to watch him paint?
Yes, and this changed the way I thought about painting. I thought that painters always planned out what they were going to do. Not Diebenkorn. For him, painting was something that gets worked on moment by moment. You work on it until you realize where you want to go. He had essentially learned from abstract expressionist painters. He applied layer after layer of paint, sometimes drawing into it with a straightedge and Conté crayons, scraping paint away in places and leaving the evidence of each step visible, which illuminated the surface of the canvas. He revealed his process, much like early Matisse.
What else did you learn from him?
When you reach a dead end as a painter, you can stop and change direction. What I mean is this: Painting in various styles came easily to him. By the time I met him he had already had considerable success as a figurative painter and with Abstract Expressionist-type work. He continued in a style as long as it challenged and interested him and then he moved on.
For an artist like that, what was it like to live in Los Angeles?
At that time Los Angeles was relatively isolated from the art world, which isn't to say there wasn't a lot going on. LA institutions supported experimentation and innovation. He found a community among other Southern California artists like Tony Berlant and William Brice. At first, you might not think these are artists who have a lot in common, but they all are always seeking, but not finding, some sort of balance in their work. That was the feeling in the air at the time. He was struggling to find resolution in his work. He wasn't always finding it but for Diebenkorn it was the struggle, the process of painting every day, that was important.