Visiting Artists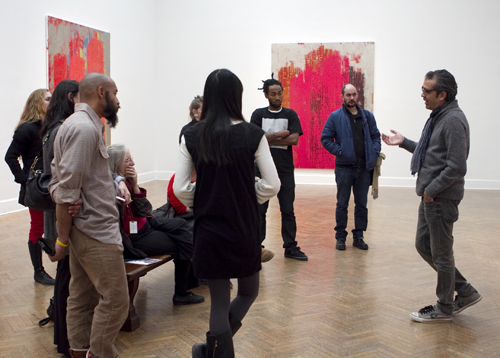 Gallery talk and tour with Visiting Artist Enoc Perez. Photo by Jenny Harnish.
The Corcoran College of Art and Design extends the roster of its dynamic faculty by arranging for appearances by professionals from around the world who have achieved excellence in their fields. Coming from the art and design worlds as well as literature, journalism, media, culture, entertainment, and fashion, these visiting artists enrich the Corcoran community with fresh perspectives and intensive interactions with students and faculty. Through these guests, students and the public alike engage with issues relevant to visual culture today.
The Visiting Artis in Residence Program
The Visiting Artist in Residence program facilitates opportunities for students to build relationships with professional artists and designers through lectures, critiques, and workshops.
Critics in the Classroom
Critics in the Classroom play a pivitol role in studio and classroom reviews, providing the students with focused points of view and a direct connection to the world of a working artist or designer.
Visits to artists' studios, private tours of galleries with curators, and collection visits are just some of the examples of how artists and experts provide students with a more in-depth understanding of the art and design community outside of the Corcoran.
Visiting Artist Lecturers
Visiting artist lecturers join Corcoran students, faculty, and the public in the Corocran's Frances and Armand Hammer Auditorium. Guests explore themes raised by exhibitions in the Gallery or discuss current issues.
Unless otherwise noted, visiting artist lectures take place during the evening in the Corcoran's Frances and Armand Hammer Auditorium (see address below) and are free to attend. Pre-registration is encouraged. For more information on the series, click here.
Corcoran Gallery of Art and College of Art and Design
Frances and Armand Hammer Auditorium
500 Seventeenth St. NW, Washington DC 20006
Past Visiting Artists include:
Visiting Artist Mia Feuer
Newman Distinguished Visiting Artist Lecturer in Photography Paul Graham
Visiting Artists Marco Vera and Fernando Corona
Visiting Artist Ellen Harvey
Visiting Artist Simon Reynolds
Visiting Artist Enoc Perez
Newman Distinguished Visiting Artist Lecturer in Photography Taryn Simon
Visiting Artist Charlotte Dumas
Visiting Professor Thierry de Duve
Corcoran Library Visiting Artist Research Guide
Please contact visitingartists@corcoran.org with questions regarding the Visiting Artists program.