ArtReach School Tours and Workshops
The Corcoran Gallery of Art offers a variety of tours for Pre K–12 student groups. Docent-guided tours emphasize close looking, discussion, and critical thinking. These tours connect with established standards of learning and emphasize the development of essential twenty-first century skills. Related studio activities, available upon request for every tour, inspire students to discover their creative potential in a supportive, encouraging environment.
School tours are offered between 10:30 a.m. and 2 p.m. on Wednesday, Thursday, and Friday. Tours may last from 45 minutes to one hour. The optional related studio activity is 30–45 minutes.
School tours and related studio activities are FREE.
Look, Listen, Discover (Grades Pre K–2)
Explore works of art by connecting paintings and sculptures with the five senses. Imagine the sound of thunderous waves crashing,the smell and taste of salty ocean water, or the feel of slippery sand between your toes.
Artistic Adventures (Grades 3–5)
I spy a loaf of bread, an umbrella, and a curious banjo! Using symbols and clues, decode hidden meanings in works of art.
Art and Power (Grades 6–8)
From Manifest Destiny to hip hop culture, investigate the good, the bad, and the ugly of shaping a national identity.
Through the Artist's Eye (Grades 9–12)
Consider how art can serve as a political and social vehicle for change. Compare and contrast artists' choice of media, subject matter, and style.
Read between the Lines: Looking with Literature (Grades 6-8)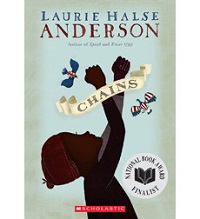 Students explore the Corcoran's historic American Collection through the eyes of 13 year old Isabel, a fictional young slave girl in 1776. Themes of home, rebellion, and freedom in works of art parallel Laurie Halse Anderson's acclaimed historical novel Chains. Read more about Chains.

TO SCHEDULE TOURS AND STUDIO ACTIVITIES
Please contact the Public Education department four weeks in advance.
Click here to fill out our online form for school tours
Click here to fill out our online form for group tours
The minimum for group tours is 8 people; maximum 60 people.
One adult chaperone is required for every 7 students.

The Public Education department will contact you to finalize details. Your tour is not reserved until you receive a written confirmation by mail or e-mail.