MA Exhibition Design
The Master of Arts in Exhibition Design Program is one of the few accredited graduate programs in the nation devoted to interpretive exhibition design. The curriculum is a balanced integration of academic, technical, and design courses. Students obtain the professional skills needed to create experiences and narrative environments that engage, educate, and entertain audiences.
At the core of this curriculum is the consideration of human factors in relation to exhibition design; graduates leave the program ready to assume the responsibilities of visual storytellers, communicators, and visitor advocates.
Graduates of this multidisciplinary program are equipped to pursue a variety of careers with private design firms and in museums focused on art, history, natural history, science, and children. With job placements of graduates at preeminent museums and design firms across the country, the Master of Arts in Exhibition Design Program is nationally and internationally recognized as one of the most comprehensive and forward-thinking degree program of its kind.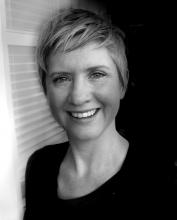 Associate Chair of Exhibition Design and Academic Advisor:Clare Brown ( contact )
Curriculum
The Master of Arts in Exhibition Design Program is a two-year, 48-credit program, which can be completed in four semesters of full-time traditional study. Part-time study is also available for those balancing coursework with careers and other demands.
The curriculum focuses on four main areas of study: museum theory, design theory, technical skills, and practical experience.
Required Courses
Exhibition Design Studio I, II, III
Methods of Visual Representation
Construction and Detailing for Exhibitions
Materials, Finishes, and Methods for Exhibitions
Lighting for Exhibitions
Vectorworks, AutoCAD, or Revit
Pro-Thesis and Thesis Exhibition Design Studios
History of Architecture and Interior Design
Museum Management and Operations
Conservation and Art Handling
Museums in the Digital Age
Careers and Internships
In addition to the rigorous course requirements, the Master of Arts in Exhibition Design Program encourages students to seek internships in a variety of museums and private design firms. Recent hosts have included:
• The National Museum of American History
• Smithsonian Latino Center
• The National Air and Space Museum
• Freer and Sackler Galleris of Art
• Phillips Collection
• Smithsonian Office of Exhibits Central
• The National Portrait Gallery
• Hamiltonian Gallery
• The Textile Museum
• The New National Museum of African American History and Culture
• The Corcoran Gallery of Art
Job Placements include:
• The Getty Museum of Art
• Gallagher and Associates
• Cortina Productions, Inc.
• Howard + Revis Design, Inc.
• National Museum of African American History and Culture
• The Whitney Museum of Art
• Thinc
• C&G Partners
• The PRD Group
• F. Shumacher and Co.
• Quatrefoil Associates
Exhibition Design Faculty
Department Life
Students have an opportunity to develop valuable professional networks through membership in the Society for Environmental Graphic Design, the student organization at the Corcoran. And the program's faculty members—all drawn from major museums and design firms—educate students and provide opportunities for networking.
In addition, DesignCorps is a collective of graduate students from the Corcoran College of Art and Design who review, accept, and implement proposals for client-based design projects with the supervisions of professional design faculty. Originating in the Master of Arts in Exhibition Design program, DesignCorps takes on three-dimensional, narrative, and environmental design projects such as exhibitions, installations, interior designs, and pop-up experiences for clients in the Washington, D.C. metropolitan area. In the spirit of multi-disciplinary and collaborative design-thinking, DesignCorps includes students from all five graduate programs at the Corcoran College of Art and Design: Interior Design, New Media Photojournalism, Art and the Book, Art Education, and Exhibition Design.
Are you interested in working with Corcoran graduate students? Submit proposals to DesignCorps, a student collective dedicated to working with professional clients to design multi-media experiences, installations, interiors, and exhibitions. More information on DesignCorps here.