MA Art and the Book
The Master of Arts in the Art and the Book Program offers a comprehensive approach to studying the history and theory of book culture, as well as contemporary methods of artist book production. The program draws on the culturally rich collections and visiting artists at the Corcoran Gallery of Art, as well as resources at the Library of Congress, the National Museum of Women In the Arts, and other regional institutions. The curriculum also includes an internship program that pairs students with artists and curators at noted Washington establishments, giving students the opportunity for professional development in specialized areas. Graduates of the program will be accomplished scholars and bookmakers ready to practice their skills in academic, professional, and studio environments.
Sample Curriculum*
The two-year, 48-credit program offers an array of academic and studio courses from traditional book arts to digital and multimedia approaches, including Letterpress Printing, Binding, Paper Making, Typography, Digital Media, Printmaking, Sculptural Book, Creative Writing, Photography, and Book History.
Master of Arts degrees in Art and the Book will be awarded to degree candidates upon their completion of 48 credits with a minimum grade point average of 3.0, along with their fulfillment of the Art and the Book Master Thesis. The Art and the Book program requires that degree candidates submit a final thesis project during their last semester of study. The thesis will consist of substantial written and studio components. Thesis work should demonstrate a student's aesthetic, historical, critical, and theoretical understanding of the intersections of Art and the Book form. A final oral critique is also required. Candidates concentrating on theory and culture of the book must produce a comprehensive thesis paper and oral defense.
Required Courses
Art and the Book Graduate Seminar I
Art and the Book Graduate Studio I
Art and the Book Graduate Studio II
Art and the Book Graduate Thesis
Layout and Design of the Book
Letterpress I: Basics from 1400 to the Digital Age
Binding I
Typography I
History of the Western Book Survey
20th Century Artist Book
Sample Courses and Electives*
Special Topics in Book Culture (topic to rotate)
Historical Bindings
Box Elements
Sculptural Book and Paper
Sculptural Book: Pop-Ups
Typography II
Advanced and Alternative Printmaking
Photographic Storytelling
Screen-printing for the Fine Arts
Internship I and II
Letterpress II.: Advanced Discovery in Letterpress
Lithography
Creative Writing
Explorations in Papermaking
Leather Bindings
Digital Media and the Book
Related Student Groups and Organizations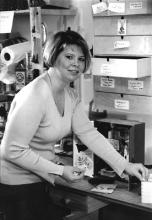 Director, Art and the Book: Kerry McAleer-Keeler ( contact )