Upcoming Corcoran ArtReach Activity: VOLUNTEERS WANTED!
4th Annual Community Arts Day at THEARC (Town Hall Education, Arts, and Recreation Center)
Saturday, October 31, 2009 from 9a.m. – 1:30 p.m.
Corcoran Workshop Activity: Gyotaku Fish Printing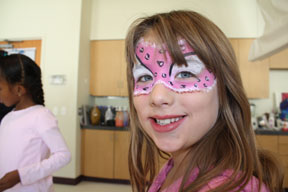 Community Arts Day is a free community festival highlighting the rich menu of cultural opportunities at THEARC by showcasing the art, music, and dance projects put on by Corcoran ArtReach, the Levine School of Music, and The Washington Ballet at THEARC.
Corcoran ArtReach is looking for volunteers to help participating families create fish prints. Volunteering includes: breakfast, popcorn, carmel apples, face painting, a magic show, hay rack rides, and much more.  You won't want to miss this event. Volunteers must arrive at THEARC by 9 a.m. for training on Gyutaku fish printing. To volunteer or find out more information, please email Melissa Green at mgreen@corcoran.org, by Wednesday, October 28.
THEARC is located at 1901 Mississippi Avenue SE. Parking is available; it is a ten-minute walk from the Southern Avenue Metro Station on the Green Line. For more information go to http://www.thearcdc.org/