Students and Faculty Welcome to Attend 30 Americans Member Preview Day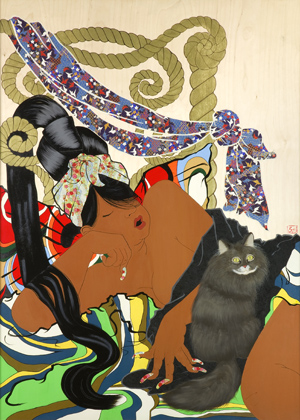 Corcoran students and faculty are welcome to attend the Member Preview Day of 30 Americans, this Thursday, September 29 from 10am to 9pm.  30 Americans showcases works by many of the most important African-American artists of the last three decades. Provocative and confrontational, this exhibition focuses on issues of racial, sexual, and historical identity in contemporary culture, and explores the powerful influence of artistic legacy and community across generations.
To sign up for a guided tour of the exhibition, please contact Kate Dirschl, Development and Membership Associate at 202-639-1753 or kdirschl@corcoran.org.
Image Credit:iona rozeal brown, Sacrifice #2: It Has to Last (after Yoshitoshi's "Drowsy: the appearance of a harlot of the Meiji era"), 2007. Enamel, acrylic and paper on wooden panel, 52 x 38 inches. Courtesy of Rubell Family Collection, Miami.