Patina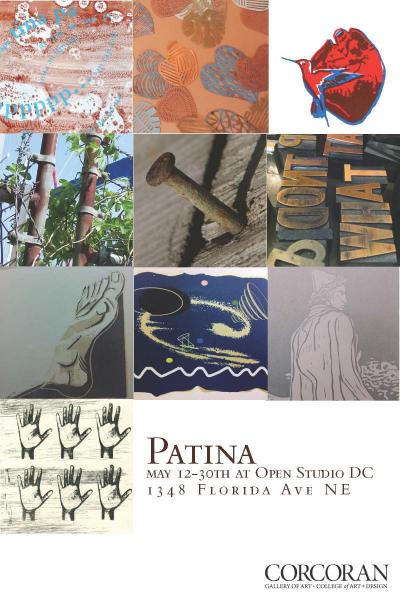 In collaboration with accomplished poets mostly rooted in the DC area, Corcoran Graduate Art and the Book Students and Faculty have created a series of prints drawing inspiration from the theme Patina. Artists Christy Ball, Georgia Deal, Erik Delfino, Marjorie Devereux Zöbisch, Julie Garcia, Li Pallas, Jennaway Pearson, Sydney Reisen, Maria San Martin, and Whitney Stahl paired themselves with the words of a poet before setting text and imagery in print mediums of their choosing. Featured poets include: Beth Baruch Joselow, Carol Beane, Christopher Cunningham, Jenn DePalma, Nan Fry, Doug Lang, Tom Mandel, Casey Smith, Bernard Welt, and Maged Zaher.
The exhibition will be on view at the Open Studio DC from May 12-30th. The exhibit will include 10 eloquent and inspirational new works in etching, letterpress, screenprinting, digital, lithograph, or mixed print mediums. Open Studio dc is a gallery designed to spotlight artists in the print related fields and a screenprinting studio that rents space to printmakers, offers workshops, and takes print jobs on commission. Open Studio DC is located at 1348 Florida Ave, NE, Washington DC.
The public is cordially invited to attend the opening reception and poetry reading May 12th from 6-9pm. The exhibition will also be viewable during open hours 10am-10pm Tues, Wed, Thurs, Saturday, and 10am-8pm on Sundays.