Member Day for Washington Color and Light Exhibition
Member Day for the new exhibition Washington Color and Light is next Thursday, November 18 from 10 am to 9 pm. Docent-led tours will be held at 10:30, 12:30, 5:30, 7:30. Students are welcome to get a sneak peak of the exhibition during those tour times.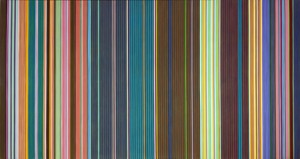 Gene Davis, Junkie's Curtain, acrylic on canvas, 1967, 115x 225 inches, Corcoran Gallery of Art, Gift of the artist, 1970.17
Washington Color and Light presents major works by the artists associated with the Washington Color School and their contemporaries. These works are united by an exploration of the language of abstraction, a desire to experiment with materials, and a love of color. The exhibition reveals the artistic innovations and individual approaches that shaped new directions in abstract painting and sculpture from the 1950s through the late 1970s.
Living and working in Washington, D.C., Gene Davis, Thomas Downing, Morris Louis, Howard Mehring, Kenneth Noland, and Paul Reed first displayed works together in an exhibition called Washington Color Painters in 1965. While these six artists never thought of themselves as a group, the Color School title became synonymous with local abstract painting of the time. Washington Color and Light includes galleries dedicated to the monumental stripe paintings of Gene Davis; meditations on color and space by Thomas Downing; and hard-edge abstract paintings by Howard Mehring, Kenneth Noland, and Paul Reed. In addition, the exhibition includes sculptures by Rockne Krebs, Ed McGowin, and Anne Truitt, as well as glorious color-saturated paintings by Leon Berkowitz, Willem de Looper, Sam Gilliam, and Alma Thomas.