Interview with Michael Robear
"It wasn't just going to school. It was an experience."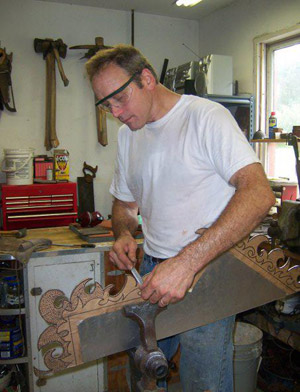 The work of Michael Robear (BFA 1984) is now on view in Gallery 31. The exhibition, titled Boundaries, displays his dreamlike paintings framed by his own exquisite metalwork. He spoke to us about his Corcoran experience.
What were the biggest influences on you as a student at the Corcoran?
I used the museum quite a bit. That was the biggest reason for me to apply. Rosemary Wright and Robert Stackhouse were excellent teachers. They pushed you to find the reason why you wanted to create something, to create artwork unique to your sensibilities. And they insisted that you work on your weaknesses.
What kind of weaknesses?
From the time I was ten years old, I wanted to be a wildlife illustrator. My dad was a construction engineer. My mom was a reading specialist. Everybody was on the other side of the brain. I didn't even know what an artist was. The Corcoran taught me that art could be so much more than I had ever believed. It wasn't just going to school. It was an experience.
What did you do after you got your degree?
For five years, I worked at a GM assembly plant—six days a week, 9-10 hours a day. It was hard work, but I got into the idea of the craftsmanship of it. Then I went into business as a carpenter. Now I'm an architectural blacksmith.
And you made art all along.
It took 10 years, maybe more, to absorb all the ideas I was exposed to at the Corcoran. Everything you do is art, even when you're at your job. With each piece, you get as close to the initial emotion as possible.
How do you balance your artistic career and your blacksmithing?
I paint when I'm working, even when I'm driving down the road. Even after all these years, I'm still not sure what art is.