Ifi Flores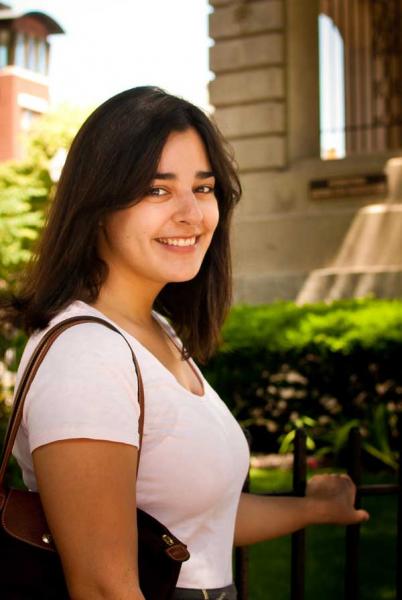 Photo: Kate Warren
Name: Ifi Flores
Hometown: Bethesda, MD
Undergraduate degree: American University
Graduated: December 2007
Area of study: Psychology
Currently studying: Exhibition Design
Student membership: Society for Environmental Graphic Design (SEGD)
Ifi completed her undergraduate degree at American University and then took the opportunity to work, travel, and explore. During that time she worked as a production artist for a design company and in production design in the independent film industry. That work took her to places like India, Brazil, Switzerland, Italy, and Venezuela.
After returning from her travels, she was unsure which direction she wanted to take, but she was confident that the field of psychology was not the right fit. She says, "I was looking for something where I could use my creativity and have a variety of tasks, which would also involve human interaction." She sought the help of a career counselor, who suggested she explore the exhibition design industry. It was through that initial connection that she found her way to the Corcoran. Ifi was reassured she made the correct decision she began working in her studio classes. In her studios she has been challenged to make connections between unrelated objects and to create conceptual exhibitions that include but are not limited to space planning, posters, graphics, and labels.
She has been able to continue to travel while at the Corcoran, studying in London and taking a course titled Exhibition and Display of Art and Material Culture. While taking that class she participated in a variety of field trips along with daily visits to museums, where she met with curators, designers, and education departments. Ifi has greatly benefited from having instructors who work in the field because it has helped her understand current trends and the numerous avenues she can take her degree in the future. Washington, D.C., has proved to be an incredible resource for her studies; an after-hours, behind-the-scenes tour of the National Gallery was a special treat. She has especially enjoyed the dozens of museums where instructors work, where she can review exhibition designs, along with fellowship and other opportunities from the Corcoran Gallery of Art.
In the future Ifi hopes to work for an exhibition design firm or as a designer in a science museum so that she can continue to explore the work she began in her undergraduate studies. Two of Ifi's favorite things in D.C. are seeing the cherry blossoms and visiting the National Kite Festival.