FotoWeek DC honors two Corcoran faculty members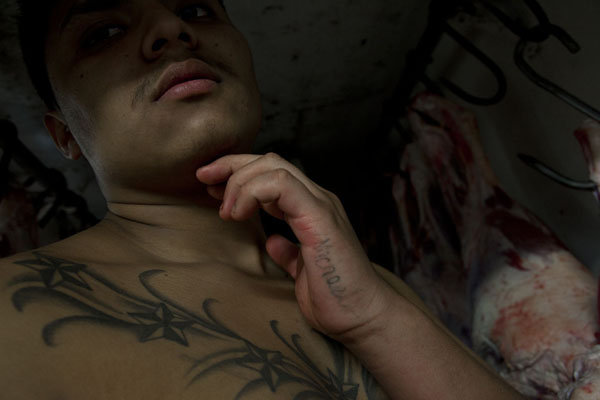 Muriel Hasbun, encarnado:embodied (Michael), 2011
Two Corcoran faculty members have been honored by the FotoWeek DC International Awards Competition: Gabriela Bulisova won an Honorable Mention in the Journalism/Social Documentary Portfolio for "a series of related images exploring the human condition to facilitate social change," and Muriel Hasbun won an Honorable Mention in the Portrait category for "a single image that focuses on an individual and captures unique aspects of their experience or personality."
Bulisova, a documentary photographer from the former Czechoslovakia, carries her camera to the world's marginalized places, where -- in places like Chernobyl, Azerbaijan, Iran, Iraq, Lebanon, and Syria. She has received numerous recognitions and awards, including Open Society Institute's Documentary Project's Moving Walls 18; the Corcoran School of Art + Design Faculty Grant Award; the Aperture Portfolio Review Top Tier Portfolios of Merit; the CEC ArtsLink Projects grant; the Puffin Foundation Grant; the PDN Annual Photography Competition Winner in Student Category award; and the CANON "Explorer of Light" award.
Hasbun is Chair of Photography and Associate Professor at the Corcoran College of Art + Design. Her main areas of research and expertise are issues of identity, memory, and place as well as cultural exchange. Her FotoWeek-honored portrait is from encarnado: embodied, a project shot in and around the slaughterhouse in San Miguel de Allende, Mexico. Hasbun's Fulbright Scholar grant project of 2006, Terruo: Detrs del teln/Backdrop: The Search for Home, like many of her artistic projects, activates the space across borders and cultural divides with an interactive and relational approach. Further projects, such as barquitos de papel/paper boats and Documented: The Community Blackboard, engage communities in a dialogue about personal and collective memory through the creation of a collective archive of photographs, video, and family stories.
ABOUT FOTOWEEK DC
FotoWeek DC was founded in 2008 and has evolved from a city-centric photography festival to a multi-season tribute to photography in all its forms. The festival celebrates the transformative power of photography through the exhibition of inspiring and provocative images, diverse programming, and collaboration with the local and international community. For more information and programming, visit www.fotoweekdc.org.
Read more about the Corcoran's participation in Fotoweek DC.