Corcoran faculty and students to participate in poetry reading at Civilian
Wednesday, March 10, 2010, 7 p.m.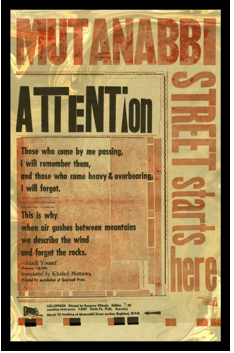 The Corcoran College of Art + Design is proud to partner with The Al-Mutanabbi Street Coalition and Civilian Art Projects to present a letterpress poetry reading on Wednesday, March 10. Casey Smith will emcee the event, which features readings by journalist and Corcoran faculty member Frank Smyth, author Azar Nafisi, Corcoran students, and more. 
Led by San Francisco poet and bookseller Beau Beausoleil, The Al-Mutanabbi Street Coalition will also hold readings in San Francisco, Los Angeles, Washington, London, and Paris. More than 130 letterpress printers and poets have contributed broadsides that speak to the necessity of intellectual freedom and the enduring power of art and poetry.
A silent auction of a selection of the broadsides (starting at $75) will benefit the work of Doctors Without Borders.