Corcoran Alumna Exhibits in New York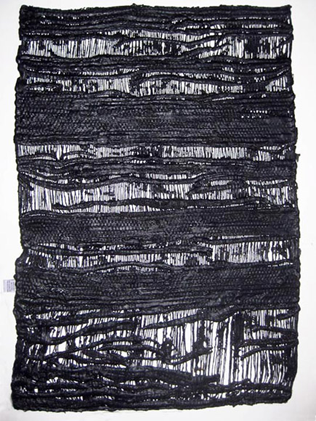 Corcoran graduate Sam Moyer will exhibit her work in Manhattan's Rachel Uffner Gallery through February 14, 2010. Shape Shifters will feature sculptures that explore the meeting point between the elevated language of abstract form, and familiar, universally accessible materials and processes. The series of wall-hung fabric sculptures combines the world of mass-produced goods with the sphere of able, home improvement craftsmanship.
Moyer is also currently exhibiting in Between Spaces at PS1 Contemporary Art Center, Queens, through April 5, 2010. Her work has been featured at the Contemporary Art Museum, St. Louis; Cleopatra's, Brooklyn; and Max Hans Daniel, Berlin. After receiving her BFA from the Corcoran College of Art + Design, she graduated with an MFA from Yale.  Moyer lives and works in Brooklyn. Please call (212) 274-0064 or e-mail info@racheluffnergallery.com for more information.
47 Orchard Street
New York, NY 10002
(212) 274 0064
info@racheluffnergallery.com
racheluffnergallery.com
Image: Sam Moyer, "Worry Rug," 2009, Ikea rug, encaustic