Coming soon to the College Corridor: Neighborhood Watch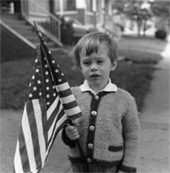 On July 1, the Corcoran Gallery of Art and Corcoran Gallery of Art College of Art + Design will open Neighborhood Watch, an exhibition of vintage and contemporary photographs by artist and Corcoran faculty member Claudia Smigrod. In Neighborhood Watch, Smigrod revisits the subjects she photographed for her 1989 exhibition, Portraits of Innocence, a documentation of the purity of childhood. Through a recent resurvey of the original Portraits of Innocence participants, Smigrod records the evolution of twenty 20 individuals as she captures them within their native environments in Alexandria, VA.
Within the exhibition Neighborhood Watch, Smigrod's photographs focus on viewing and reviewing a selection of her twenty 20 original subjects, paying particular attention to their evolution as well as the importance and deliberate nature of photographing the subjects in their original environment. In addition to documenting the subjects' individual evolution progression, Smigrod paid close attention to the common threads that link the group. Each subject was asked to express in writing his/her reflections on their "thoughts, hopes and dreams" of both twenty years ago and today. The exhibition Neighborhood Watch commemorates the iconic rites of childhood and concludes with vintage prints from Portraits of Innocence along with images that underscore the importance of place. The exhibition will run through August 9. For more information, please visit www.claudiasmigrod.com.