Ceramics faculty picked by Chicago's RTKL to create signature tile wall for the Peeps Company flagship retail store at the National Harbor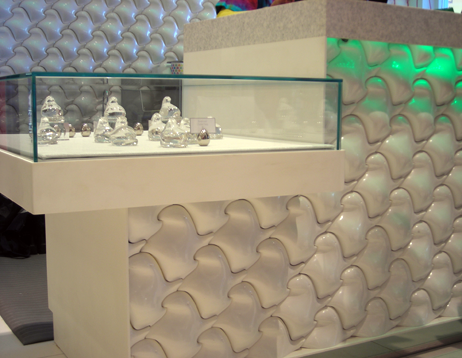 The Corcoran College of Art + Design is pleased to announce that Adriana Baler, Corcoran adjunct faculty and principal of Adriana Baler Studio, LLC, was selected by Chicago architects RTKL to create an exclusive signature wall inspired by Peeps iconic marshmallow candy. Her custom-designed "Peeps tile" project at the first Peeps & Company retail store at the National Harbor.
Baler's tessellating, Escher-like, three dimensional rapid prototyped design, which was manufactured in a stone powder/petroleum resin mix (solid surface), can be seen along the register wall and cladding the cash-wrap surface in the Peeps outlet. The store is located at the very center of National Harbor's dynamic main plaza, which is a converging point for residents and thousands of visitors.
For images of this project, please click here.
For more information about Adriana Baler Studio, please click here.