Call for Entries: MobileMovie Film Festival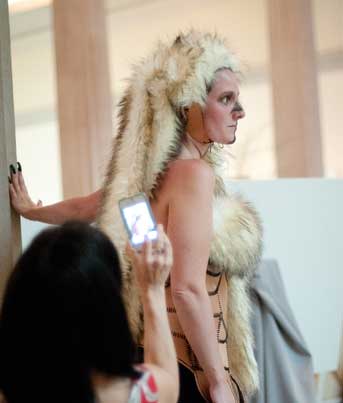 The Corcoran is now accepting submissions for its first-ever MobileMovie Film Festival, a juried film competition taking place in the Corcoran's auditorium on Wednesday, January 9, at 7 p.m. In conjunction with the opening of the Gallery 31 exhibition This Is Not A Museum, the film festival will challenge the limits of mainstream filmmaking by featuring movies made exclusively on mobile phones.
The winner of the MobileMovie Film Festival will receive a $100 cash prize and a custom mobile web app generously provided by OnCell and a $50 gift certificate for Sunday Market Brunch at Todd Gray's Muse at the Corcoran (tax and gratuity not included).
Interested in submitting your mobile movie?
All film entries must be uploaded using Vimeo, and must include a title and brief description to be considered by the jury. Instructions can be found below. A maximum of three works will be accepted. Films should be 30 seconds-four minutes in length. Films longer than 4 minutes will not be eligible. All film genres will be accepted.
The deadline to submit a film is Friday, December 28. Notification of acceptance into the festival will be sent by Friday, January 4.
How to submit your video using Vimeo:
Create a Vimeo account here: http://vimeo.com/join
Join the Corcoran Mobile Movie Festival Group here: https://vimeo.com/groups/164951
Upload your video.
Under Basic, provide Title and Description. Video titles should be labeled as follows: Lastname_firstname_title. Within the description, please include your name, email address, and phone number.
Under Add To, select the Group name: Corcoran Mobile Movie Festival.
Click Save Changes and your submission is complete.
Questions?
Contact Erin Higgins, Public Programs Manager, at ehiggins@corcoran.org.
Co-Sponsored by

OnCell provides a full range of mobile tour solutions including: smartphone tours, mobile web tours, QR code tours, cell phone tours, mobile surveys, GeoAlerts, scavenger hunts/games, custom apps, and app channels—all integrated onto a single platform. We are mobile communication experts who are passionate about the arts and education. We've worked on over 1,000 projects both in the U.S. and internationally since OnCell's inception in 2006.
Photo: Denny Henry