Alumni Juried Exhibition 2009, Gallery 31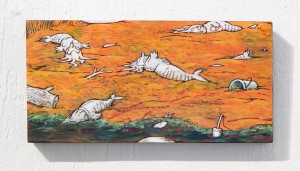 "Red Tide" by James Young, Acrylic on canvas, 16" x 8"
The 2009 Juried Alumni Exhibition will take place September 23rd – October 18th. The reception will be on October 16th from 6:00 – 8:00 to coincide with the Corcoran College of Art + Design's Family and Alumni weekend. The exhibition is designed to showcase our alumni and their artwork.
This year's juror is George Hemphill. Hemphill opened his contemporary gallery in the Fall of 1993 with a focus on 20th Century fine art, including painting, sculpture, printmaking, and photography. The gallery's expertise in photography includes work from the medium's invention to the most current forms of digital photography and printing.
Prior to opening Hemphill Fine Arts, George Hemphill worked at the Middendorf Gallery in Washington, DC, playing a crucial part in the development of the current fine art photography market. Hemphill represented the work of such artists as William Eggleston, William Christenberry, and Joseph Mills, building the foundation upon which these artists' fame has grown. In addition to photographic exhibitions, Hemphill supervised exhibition installation and graphic design for Middendorf Galley and worked with collectors in assembling high quality photography collections.
Now the founder of his own gallery, Hemphill assists in the acquisition of photography as well as consults with collectors on the donation of work to museums (including the National Gallery of Art, The Museum of Fine Arts, Houston, and The Phillips Collection). The exhibition program at Hemphill incorporates both one person and thematic shows. Hemphill continues to supervise selected printing projects for photographers such as Godfrey Frankel and William Christenberry, and represents the work of photographers Colby Caldwell, the Estate of Eliot Elisofon (Life Magazine), the Estate of Godfrey Frankel (NY Photo League), Paul Fusco (Magnum), and Lucien Perkins (Washington Post), among others.
For more information contact Allison Long, Coordinator of College Exhibitions at along@corcoran.org, or Shahdeh Ammadi, Alumni Relations and Development Officer at sammadi@corcoran.org.